Setup a website where tutors can run paid live video seminars, presentations, conferences, eLearning rooms and broadcast these live conversations.
Moderators setup their rooms, prices and see subscribed clients:
These room links can be manually sent to students (clients) or added to a site/page for clients to get to the room page.
Students (clients) can buy access to presentation rooms:

After buying access they can enter the room: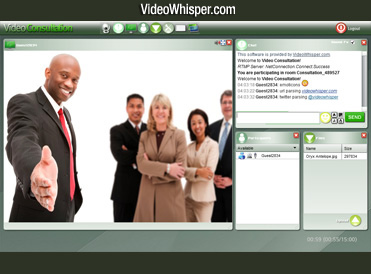 Moderators control what participant is displayed on main screen (speaker) and can also add an additional participant (inquirer) or more to ask questions or assist. Moderators can also show presentation slides and other streams (live or recorded/vod) on main screen.
Participants can change their public status (i.e. request to speak), upload and download room files, text and video chat depending on setup permissions.
Key Features
Frontend room management
Membership site ready
Setup paid rooms with myCred integration (configure price and duration)
Custom parameters, layout for each room
Invite list with option to notify by email
Participant bonus (paid for first access to room page)
Widget with online rooms
Configurable landing room: lobby/personal
BuddyPress group rooms
Control global access by roles, ID, email, BP Group
Participants mode: active/passive/invite only
Room invite list
Custom room parameters and layout
Transcoding for iOS HTML5 HLS
Streamed video archive management with Video Share VOD WordPress Plugin
Project Requirements / Components : How to Setup
Similar Solutions
Paid VideoChat – Pay Per Minute private shows, public rooms accessible free or by fee/membership, tips, online performers ajax list
Broadcast Live Video – Live Streaming channels accessible free or by fee/membership, multiple membership levels for broadcasters, online channels ajax list